The fish, a female full of eggs, was 19 inches long and had a 19-inch girth.
"I've never seen anything so fat. It was so fat its eyes were bulging. It was a freak," Held said.
Held caught the fish on a swim bait with a jig head, using an Alabama rig. Not legal in all states, but allowed in South Dakota, an Alabama rig allows an angler to fish with multiple hooks on one line.
"Basically it imitates a school of bait fish, like perch," Held said. "I started the morning using jerk baits and then switched to the Alabama rig. I caught the fish on the second cast with the rig."
To say Held caught the fish in a very brief space of time is not entirely accurate. The two had been scouting, studying and fishing Horseshoe Lake for three years. They began after reading that the previous state record was caught in the lake in October 2013.
"Casey's been working on this, been looking at this lake for last few years and he's spent a lot of time looking at it and figuring out good-looking spots," Held said. "We've spent a lot of time fishing over there and had some bad days. But we knew state record came out of there and we got verification some big smallmouth came out of there. We kind of found a honey hole. Good friend of ours caught a 6-pounder last fall and actually Casey caught two personal bests this morning before I got the record."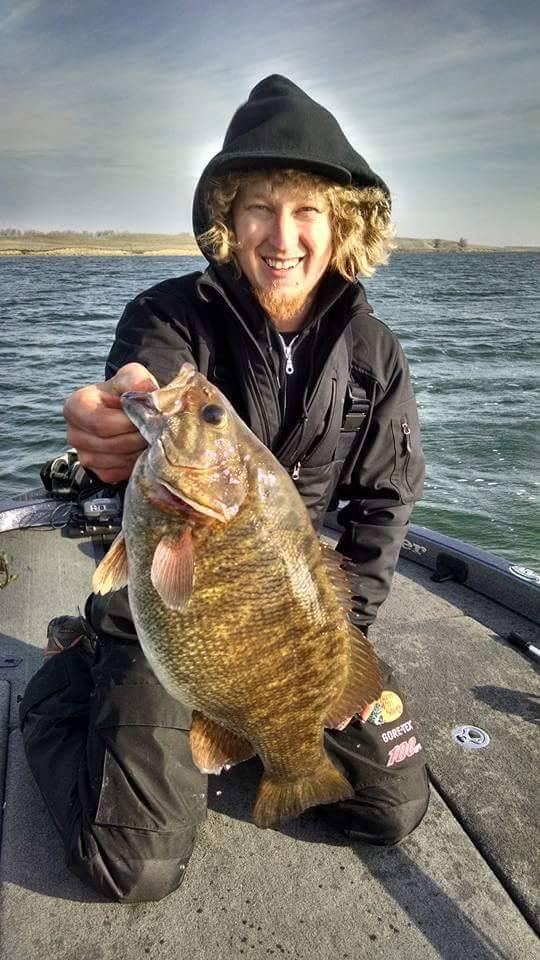 The anglers had a goal of making a documentary out of their quest, so they brought multiple video cameras along. They captured everything, from the catch to the release, so they'll be releasing video once they have a chance to go through the footage and edit it.
Yes, they released the fish alive back into the lake. Which was a feat unto itself.
After getting the fish in the boat and realizing it was likely the state record, Held called a SDGFP biologist in Webster. They talked over the legality of transporting the fish to be weighed, certified and released.
They decided the best course of action was to drive to Webster, buy a large Rubbermaid container, fill it with water and put the fish in it. Held and Ehlert drove from the lake to Sportsmen's Cove in Webster, weighed and certified the fish, then drove back to Horseshoe Lake for the release.
"It was a pretty cool experience, especially to see it swim away," Held said. "It was three years of preparation. We've been working on this lake for three years and the stars aligned today."
Held is a certified auto mechanic at Luther Family Ford in Fargo. Ehlert is a teacher in Barnesville.