PIERRE, S.D. | If there is one thing you can count on about Lake Sharpe this time of year, it is that it will kick out walleyes. Early spring means "eaters," those 15- to 18-inch males that take up residence on the rocky flats where the big females move in to spawn.
If you hit it right, the fishing can be phenomenal. Be a few days early or a few days late, and it is another story.
Oh, you'll catch fish. And you shouldn't have any trouble catching a limit of four walleyes over 15 inches. But you will have to work for them.
That's what happened to us late last week. Gary Howey of Hartington, Nebraska, and I fished with longtime friend and fishing guide Kent "Hutch" Hutcheson, who has been guiding in the Pierre area for over 30 years.
When Hutch picked us up at the Ramkota Hotel, our headquarters for the next few days, he told us the walleyes were at the end of their spawn and finding fish might be tough. He had fished the Cheyenne River on massive Lake Oahe the previous day and reported the fish were there but finding them was not easy.
After some conversation we decided our best bet might be the West Bend area of Lake Sharpe, the 80-mile-long reservoir to the south that stretches from Big Bend Dam just above Chamberlain to the Oahe dam just a few miles north of Pierre.
When Gary and I crossed the bridge spanning across the river from Fort Pierre to Pierre, we noticed a lot of boats working the sandbars just downstream. I took a quick count and came up with 26 boats.
"Doesn't anybody work anymore?" Gary said. We used to see this kind of pressure on the weekend, but this was during the week.
It was the same at the West Bend boat ramp. Over 20 rigs were parked in the parking lot and three more boats were ready to launch.
As we eased out of the small bay that protects the ramp, I counted 15 boats working the big, long sunken reef or island that lays out across the bend. But Hutch wasn't heading there. He abhors fishing with a bunch of boats and pointed the bow downstream to one of his hot spots a few miles away.
When we got there, three boats were working one hump and another was awfully close to where Hutch wanted to fish.
"I used to have this spot all to myself for years," he said. "But things have changed."
We dropped over bottom bounces with minnows on the snell and hadn't gone 10 feet when the first walleye hit. Gary grabbed the camera and began recording the action for his Outdoorsmen Adventures television show, which airs at 6:30 a.m. Saturdays on KCAU-TV in Sioux City.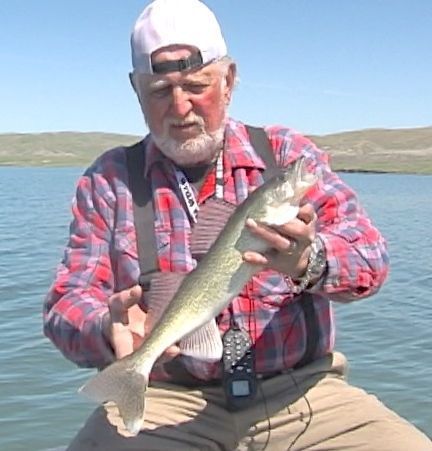 It was a nice walleye, a solid half inch over the 15-inch minimum, so into the live well he went. We caught a few more walleyes and then the action slowed. Hutch pointed the boat toward the shoreline and began following the underwater point in.
"There's a rock hump here which holds walleyes, but we'll also catch some smallmouth," he said.
And his prophecy was right, but we'll hold off on the smallmouth fishing until next week.
What surprised me about this walleye fishing was how shallow the fish were. At many of the areas we fished we could see the rocks clearly on the bottom. Six to eight feet was the key depth.
But just about the time I thought I had the pattern figured out, Hutch took us to a mid-lake hump that topped at 11 feet. The first walleye came out of 14 feet as we eased up onto the hump. Three more came in at the top and two more took our minnows back in deeper water.
Our bottom bouncers were fished on 8 1/2-foot medium power casting rods spooled with Power Pro braid. The bouncers weighed an ounce and a half and we used snells of 8-pound test Trilene about 30 inches long. Our hooks were size one bronzed aberdeen, although I tied on a gold one for a while to see if it made any difference. It didn't. The minnows were hooked through the lips so they could swim around as we fished very slowly. Occasionally I'd hook a minnow alongside the tail being careful not to nip the spine. You often get more action out of a minnow hooked that way
Occasionally we'd pitch jigs tipped with minnows. We used quarter-ounce, round head jigs tipped with a minnow. Hutch usually uses two minnows on a bare lead head, both minnows hooked through the mouth. I usually use one minnow and run the hook down his throat and out the back of its head. That just about eliminates short strikes and the minnow will stay on the hook when you cast.
The next day we spent a couple hours on the river at Pierre, but the corps wasn't releasing much water from the dam, and without current the walleyes don't bite very well. We loaded up and headed back to West Bend and had another go at the walleyes and bass.
It was great fun and the weather was perfect, light breeze and sunshine.
For more information about Hutch and his guide service, see fishinghutch.com or email him at fishinghutch@aol.com. About every three days he posts a fishing report on his website based on his and other guides' experiences on both Oahe and Sharpe. It's the best and most reliable report out there. You can reach him on his cell phone at 605-220-2844.
Hutch and his wife, Francie, live at their home on Spring Creek on Lake Oahe during fishing and hunting season, but spend the off season at their home in Ida Grove, Iowa