Reprinted from the Sioux City Journal
CARROLL LAKE, Ont. | The tannin-stained water spilled over huge precambrian boulders and settled into the pool below.
Steve Brinkman, general manager of The Lodge at Carroll Lake, held our 16-foot boat at the edge of the eddy, and we cast jigs into the deeper water. This was classic Canadian fishing. This small river, one of several feeding the lake, drew walleyes like a magnet. It made the journey in, fraught by shallow boulders with an appetite for props, well-worth the risk.
Gary Howey set the hook into yet another 18-inch walleye. Our companion boat, with Randy Smith, Yankton, S.D., a veteran of other Carroll Lake trips, and Chad Tramp, Ankeny, Iowa, on board were also fighting fish.
Yes, this was Shangri-La, an earthly paradise where old walleye anglers must go when they die and find themselves in heaven. Jackpine and spruce, birch and aspen grow right to the water's edge. Their roots gripping the thin soil veiling the oldest rock in the world. Indeed, the Shield is a magical place.
I dipped my eighth-ounce vintage Mary Kay bucktail jig into the clear, tea-stained water and watched the white hairs pulse around the fluorescent red chenille body. The yellow hackle tail flashed as the jig moved.
I had tied this and many other Rock-A-Roo jigs to use on this trip in a kind of celebration. This marked the 40th year since my first Canadian fly-in. And in those days I tied all my own jigs. I've found little reason to change over to plastics.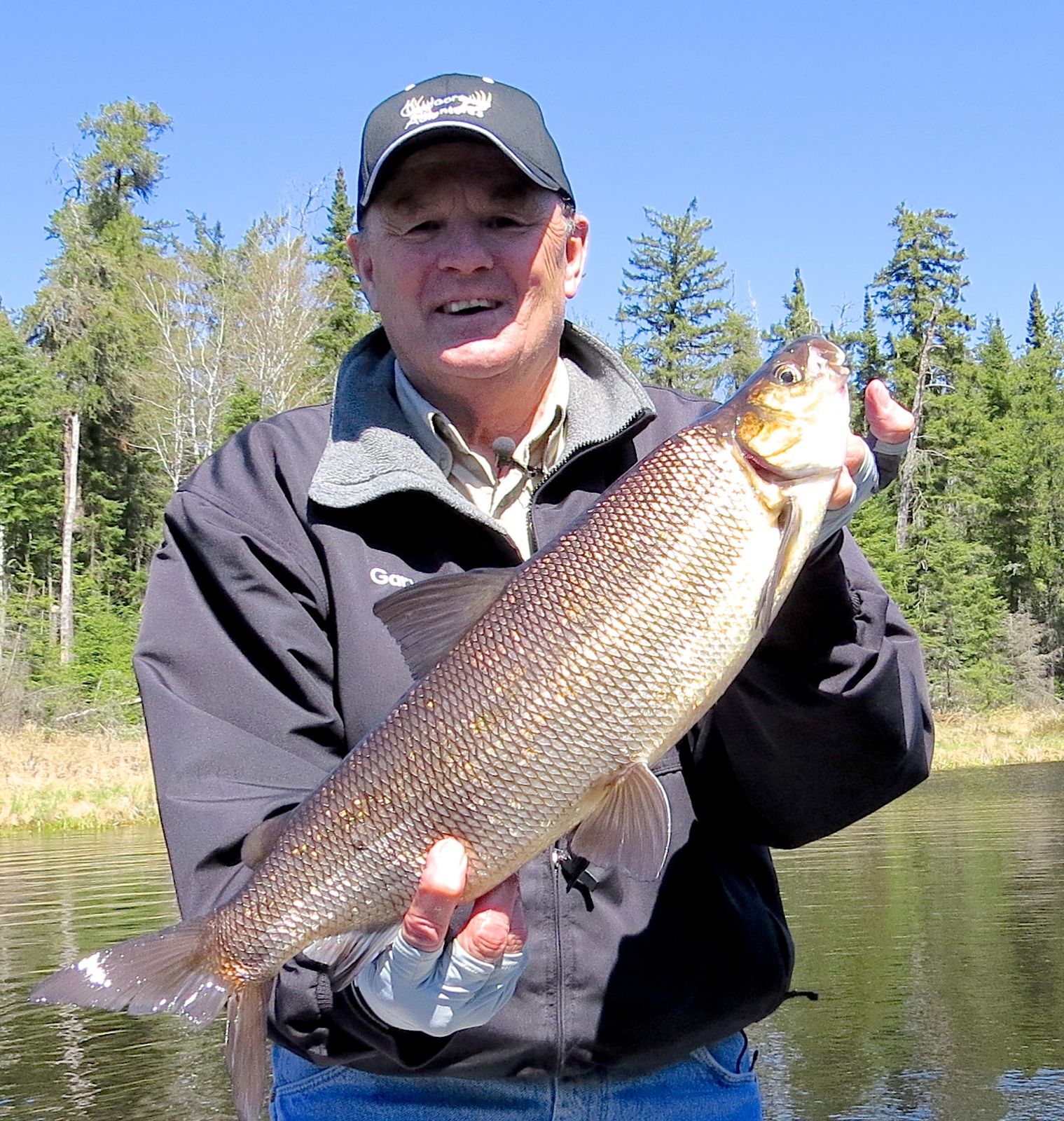 One of the things I like best about walleyes on the Canadian Shield is that they are willing. They always seem to want to bite when you find them.
These fish were certainly willing. So too, were northern pike up to 12 pounds. And, surprisingly, this little pool was full of jumbo perch. They were averaging about three-quarters of a pound.
But, the prize of the afternoon was, of all things, a whitefish which decided Gary's jig was too good to pass up. It put up a monumental battle. It looked like he had hooked the walleye of a lifetime, but when it popped up we knew.
It was 26-inches long. We guessed it at 7 pounds. I've caught a lot of whitefish in Canada, but nothing over 5 pounds. This was, indeed, a trophy. After a few photographs we slipped it back into the water and watched it swim away.
Our day had begun on the Winnipeg River just a few miles south of Pine Falls. There we boarded the fabled bush plane, a deHavilland Otter, and flew the 165 miles northwest to Carroll Lake.
The lake is 22 miles long and peppered with islands. Wind is never a problem for anglers here because there really is no large open water area.
It's nestled in Woodland Caribou Park which lies on the Ontario and Manitoba border. In fact, the small falls where we fished that afternoon were right on the border.
As our plane banked on the final approach, the Lodge and it's cabins were apparent on the south end of an island. As we taxied to the dock, Brinkman met us. On board was his wife Tami, Mitchell, S.D., Randy, Chad, Gary and me.
We took our meals in the main lodge featuring a large stone fireplace.The next day we fished other areas on the lake. We caught walleyes at each stop. But one of the best was a narrows created by the mainland and an island. There was a slight current moving through and walleye running from 17 to 20 inches were in abundance.
We only scheduled two fishing days on this trip, and that is not enough. A series of cold fronts had moved through before our arrival and put down the bigger walleyes for which Carroll Lake is noted.
When Gary and I climbed into the little Cessna float plane for our return to civilization, I felt regret for not staying longer. It was a brilliant day, bright sun and no wind. I guess that's why Ontario tourism calls this Sunset Country.
For more information contact Steve Brinkman at (605) 999-7467, or email him at: brinkmansteve@hotmail.com. Also, check out his website at CarrollLakeLodge.com.
More information on the great fishing in Ontario can be found at www.gofishinontario.com To find out about Sunset Country, go to: ontariossunsetcountry.ca
There's more outdoor information on Larry's Siouxland Outdoors web page http://siouxcityjournal.com/sports/recreation/outdoors/