Without a doubt May and June might produce some of the best walleye fishing that South Dakota has to offer.   The saying "fish are jumping in the boat" can be as close to reality as it comes with almost every type of bait and lure being productive. As the summer grows, the water warms and the baitfish hatch, naturally slowing fishing success.
Hearing that half the summer is over once the 4th of July passes on the calendar, many turn to camps and family vacations. With the weather turning hot to say the least, many try to take advantage of the weather knowing what is coming in the upcoming months.   Surprisingly, many boats get parked for a siesta convinced that the fish just aren't hungry. Do you think that walleyes just take the months of July and August off from eating? Not a chance!
Having not quite the 10,000 lakes like our neighbor, it still can easily be said that South Dakota is rich in lakes teaming with fish of all species.   What is very different from neighboring states lakes is often water depth. In marginal depth lakes, mid-summer walleyes scatter and migrate to weedy areas seeking food and shade decreasing angling success.
South Dakota is not void of deep lakes by any means. With a handful of choices in Northeastern South Dakota, Lake Oahe, South Dakota's largest walleye factory, might be the #1 choice for hot midsummer walleye action due to its deep water and vastness. Lake Oahe, part of the Missouri River system, has countless miles of shoreline creating incomprehensible amounts of underwater structure that can be walleye fisherman's dream!
For new fishermen looking for a new fishing destination where walleyes can be caught almost year round, Lake Oahe should be noted. Having fished it every month of the year, this fishery is a sure angling destination. The prairie grasslands and rising cutbanks are serene along the countless stretches of shoreline. Bountiful wildlife can be seen daily along with the crowing pheasants at rise and sunset.
To be quite frank, there are really no special angling techniques needed to catch fish on Lake Oahe. Tweaking or modifying some techniques can increase success but simple live bait presentations make fishing Lake Oahe far from rocket science. Pulling the traditional bottom bouncer with snells ranging from a plain hook to a spinner is a lure of choice by many. Favorites include the Northland Tackle Live-Image blades and the Slick-Stick bottom bouncer allowing anglers to fish all types of structure while remaining snag free. Nightcrawlers and leeches often top of the walleyes menu during this time of year.
It's no secret that even small amounts of wind can raise havoc on large bodies of water. By July and August weather fronts are much less prevalent making fishing much more comfortable.   On very hot and calm days, most activity is often during early or late in the day when temperatures might be the most conducive.   Lake Oahe is fishable by all sizes of boats. Knowing limitations and what your boat is capable of is key. We all know that wind can turn fish on and this time of year it can make even a bigger difference. Fishing on days when the wind blows will be sure to increase your odds on boating fish. When in doubt…..fish the windy side.
We have all heard it before…80% of the walleyes are in 20% of the water. This could not feel any more true than this time of year. During mid-summer, location might be most critical. Many will ask……"With so much water, where do you start looking for fish?" Concentrating on long points that run out to the main river channel or adjacent to deep water are key areas where walleyes often will come to feed this time of year. Walleyes use these areas to come up and feed and at same time they can slide off to deep water quickly. Also looking for varying bottom hardnesses, compositions like rocky areas, deep flooded trees and vast deep flats can hold late summer schools of walleyes. Electronics are a must and a Humminbird Unit combined with a highly detailed Lakemaster chip will only contribute to finding walleyes.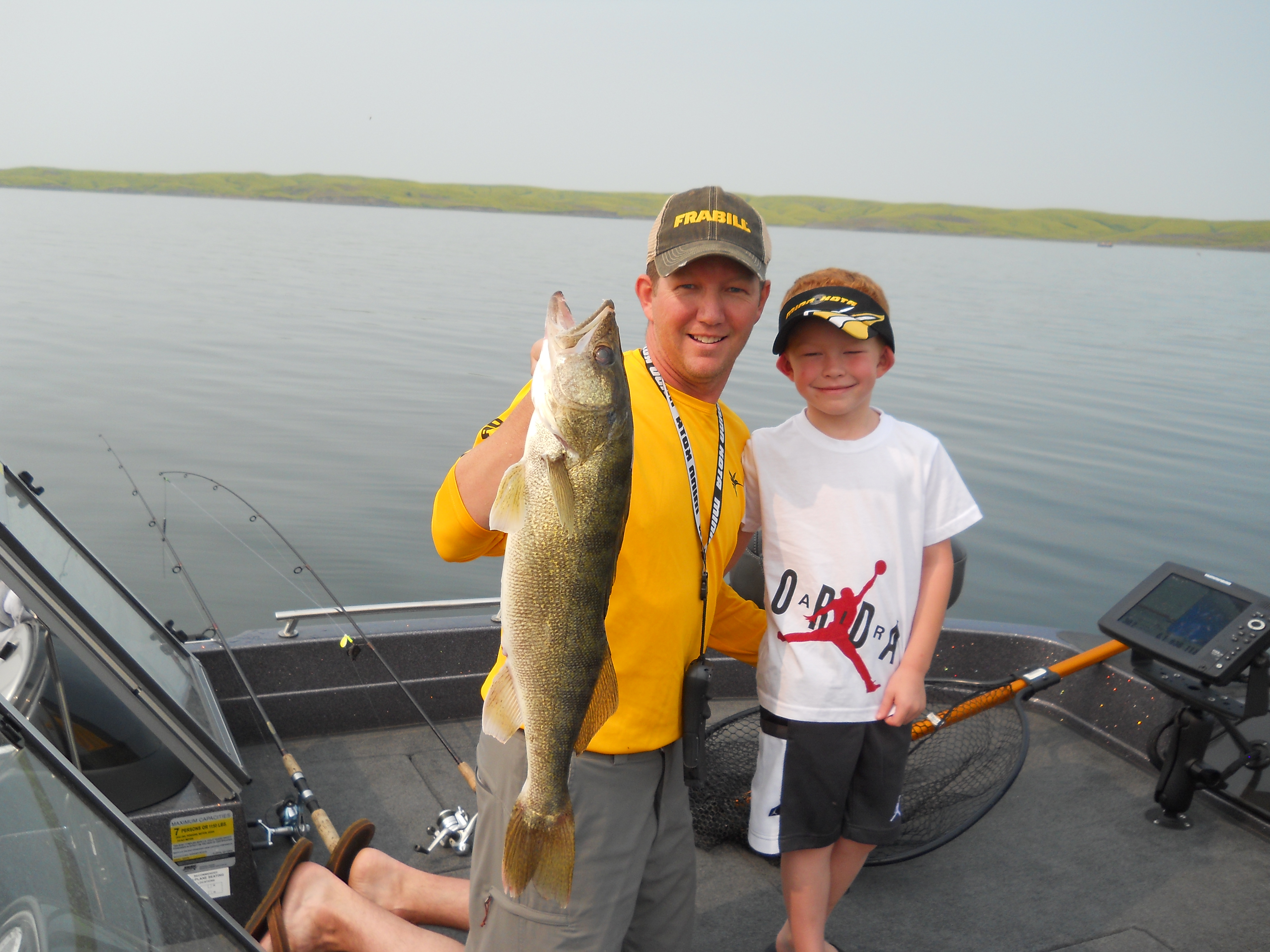 Lake Oahe could definitely be classified as a family body of water. Containing a large number of species of fish, angling action can be abundant. The most popular sought after species are walleyes, northern pike, smallmouth bass and catfish. All of these can be caught simultaneously in the same location making for some fast and constant action only contributing to this being a family angling target.
Even though Lake Oahe is a large body of water, there are accommodations up and down this reservoir.   The West Whitlock State Park alongside the West Whitlock Resort is the favorite of many because of it countless amenities and location. Not only situated on part of Lake Oahe where walleye success rings all summer long but everything needed for a safe, enjoyable and action packed trip is located in close proximity. The state park contains possibly the nicest boat ramp on the lake allowing for safe access even on windy days. After a long day on the water, the West Whitlock Resort Bait Shop has a full list of conveniences that range from food to bait.
Walleye numbers are currently high with many eater sized fish. Even more tantalizing, there is always a chance at a trophy sized fish.   The fishing on Oahe in July and August can be as hot as the weather! Lake Oahe may be intimidating compared to others, but that will soon go away with a few walleyes swimming in the livewell!
Why is Lake Oahe my favorite body of water? It's quite simple, its immensity allows for solitary fishing if pursued and literally not knowing what you're going to catch is exciting. Gazing at beautiful prairie landscapes while fishing only fuels the favoritism of this body of water. Having fished Lake Oahe for over 25 years, I still get excited every time I back my boat down the ramp.
Remember….ANYTIME is a great time to get kids involved in the outdoors!
Eric Brandreit is the Co-Owner of Dakota Prairie Angling Guide Service on  Lake Oahe and Northeast South Dakota lakes. He is a member of Team Outdoorsmen Adventures  and has Co-Hosted on the Outdoorsmen Adventures television series.