The sun was lighting up the morning sky in brilliant shades of pink and blue as we made our way west from the Ramkota Inn, Pierre, South Dakota and it appeared to be the beginning of a beautiful day for fishing.
Good friend Steve Nelson, Pierre, South Dakota had been trying to get us out his way for several years to sample some of great fishing the stock dams, the smaller bodies of water in the area had to offer. Many of the ponds and stock dams he had bragged about were located on the 115,997 acres Fort Pierre National Grasslands, while others were scattered throughout the privately owned range land in that part of the state.
These smaller bodies of water are found throughout the upper Midwest and contain catchable populations of bass, bluegill, sunfish and catfish.
In mid July, when we finally made the trip west, the temperatures can easily reach ninety plus degrees. The day before we arrived, the temperatures had been in the high nineties, with similar weather predicted the two days we would be there, because of this, we would start fishing around sunrise, during the early morning.
It was close to seven am when we pulled into the pasture and as we arrived at the stock dam; it looked as if we would have to spend some time trying to locate the fish as the shoreline weeds gave them plenty of places to hide..
Because of the weedy shoreline, we would be fishing out of two Coleman Crawdad boats, oaring our way through the thick weed beds and then using electric trolling motors to work along the deeper water of the outside edges of the weeds.
Armed with one sixty-fourth and one-sixteenth ounce jigs tipped with tiny pieces of crawlers, we probed the ten-foot water between and along the outer edge of the weed line.
As Larry pulled us away from the shore, I rigged up a micro jig with a small piece of crawler and worked it between the weed pockets.
When using such a small jig, light line is necessary and as I fed my four-pound line from my reel, keeping a tight line, following the jig to the bottom, it suddenly paused, then darted off to the right. I set the hook, not knowing what to expect, then, my ultra light rod doubled over with the drag on my small spinning reel began to scream.
Whatever had engulfed my lure was putting up a good fight and as I worked it to the surface, an angry bull bluegill came up alongside the boat. The thick ten-inch plus fish was at least one pound, and only the beginning of several dozen of the big fish who would fall prey to our offerings.
While I was working my fish into the boat, both Larry and Steve were busy fighting fish, Steve's would be a big perch, while Larry's was another of the big bluegills.
Several fish later, both Larry and I would bring bass to the boat; neither was large like the bluegill and perch, just a lot of fun when taken on ultra-light fishing gear.
Numerous times, all three of us would be bringing fish to the boat and as one area of the pond slowed, we would move to another and the battle would continue
By nine-thirty, the bite would quit as the fish buried themselves deep in the weeds, making it impossible for us to get at them.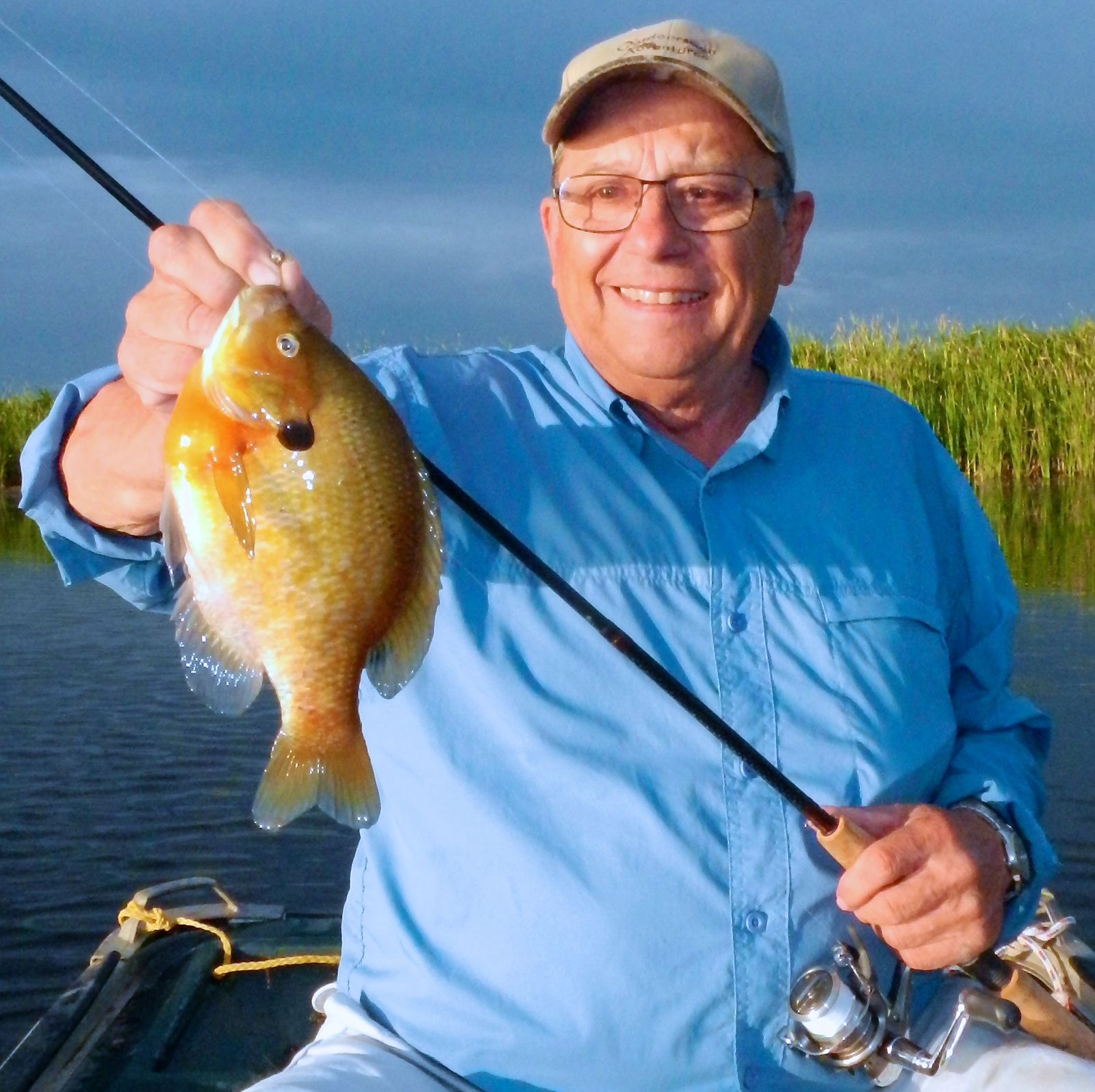 We would spend a couple of hours each of the two mornings we were there, and had a great opportunity to sample some of the excellent fishing available in these smaller bodies of water.
Do not think just because a body of water may not be the large lake or reservoir you are used to fishing, that they cannot hold big fish. As you can see below, in our tri-state area of Nebraska, South Dakota and Iowa, anglers fishing these small bodies of water took numerous state record fish.
Nebraska small bodies of water state records:
* Largemouth Bass-10 pounds 11ounces from a sandpit
* Rock Bass,-2 pounds 14 ounces from a farm pond
* Spotted Bass-3 pounds 12 ounces from a sandpit
* Black Bullhead-3 pounds 15 ounces from a farm pond
* Black Crappie-4 pounds 8 ounces from a farm pond
* Green Sunfish-1 pound 8 ounces from a farm pond
South Dakota small bodies of water state records:
* Largemouth Bass-9 pounds 3 ounces taken from a gravel pit
* Bluegill-3 pounds 4 ounces taken from a gravel pit
Iowa small bodies of water state records:
* Black Bullhead-5 pounds 8 ounces from a farm pond
* Bluegill-3 pounds 2 ounces from a farm pond
* Green Sunfish-2 pounds 1 ounce from a farm pond
* Redear Sunfish-2 pounds 4 ounces from a farm pond
The next time you have an opportunity to fish one of these farm ponds or stock dams, these small bodies of water; do not pass it up, as the one you fish could very well be the home of one of the new state record fish.