Sometimes farming for wildlife means doing the extra things that can create better wildlife habitat, including putting out wood duck nesting boxes. Long before duck season begins each year, wood ducks will produce a clutch of eggs in hopes of adding ducklings to their world. Property managers and avid waterfowlers should take an interest in this practice because it both, trains wood ducks to imprint and utilize your area during breeding season and potentially increases the number of wood ducks you're able to hunt each successive year.
Why Use Wood Duck Boxes?
Hunting wood ducks in bottomlands is a unique and special experience, and so is trying to raise ducklings.  Even the most seasoned manager has a soft spot for a nesting box full of fuzzy ducklings about to parachute out of their front door and into Mother Nature's den. But before that can ever happen, careful consideration must be given to wood duck nesting box placement and maintenance, including a fair amount of labor.
Don't forget that erecting a wood duck nesting box requires more materials than simply the box itself.  While it is true that one can mount a nesting box alone by nailing it to a tree, that method doesn't provide a measure of protection from common predators like snakes or raccoons. A proper mount includes a 4 X 4 pole of treated lumber, and a predator guard usually made of galvanized sheet metal. Nails, screws, hinges and latches are just a few of the smaller hardware pieces that are necessary for final assembly.
In the Southeast many refer to wood ducks as the summer duck, since they tend to stick around well into spring or even year round. This fact, plus their willingness to make use of a nest box make them a species of duck that can benefit greatly from management. Make no mistake, some wood ducks migrate to the far north each year, a trek that is documented easily by federal leg band recoveries. However, if you cover their needs new birds can be coaxed into staying.
The abundance of woodies led the federal government to increase the daily bag limit recently to three per hunter, and their population still has room to improve. Wood ducks used natural tree cavities to nest in before nest boxes were ever implemented, but as hardwood bottomlands became degraded over time by logging efforts, wood duck populations were greatly affected. Wood duck populations today are a conservation success story due to their stable numbers and wide dispersion.
Where to Place Wood Duck Boxes?
Identifying areas to place wood duck boxes requires a mixture of scouting and some guesswork. As with all habitat management, working with wood duck boxes will be a trial and error effort, since not all box locations will appeal to wood ducks. Any time wood ducks are spotted in flooded wetlands, then that is automatically a spot worthy of consideration for nest box placement. When we hunt ducks the name of the game is to be where they already want to be, and that knowledge works the same way for nesting activity.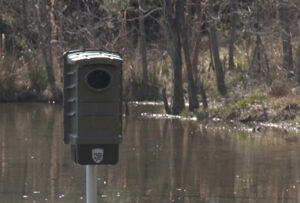 The common sense part of the guesswork comes when you factor in if water will be present at the same spot come late February and into March (or March through May in the north), when the ducklings are being raised in order to fledge. From my experience with putting nest boxes directly on river frontage, I would suggest a different route. The water fluctuates each spring so it really doesn't make for an ideal location. Over time I became drawn to backwater bays, or what we like to refer to as pocosins in the Southeast, that gather and hold water over winter and also during prolonged wet weather. Potholes or the edge of marshes are also great places – again, you may have to deal with some trial and error. Wood ducks like to spend their time and raise their young in secretive spots in the woods with fair access to water.